Counties: Alachua, Citrus, Dixie, Gilchrist, Hernando, Lafayette, Lake, Levy, Marion, Sumter, Suwannee, Union
About: Nurse-Family Partnership ™ is a national model for keeping children healthy and safe, and improving the lives of moms and babies. Our focus is to provide evidence-based home visiting and outreach services to at risk pregnant women and their infants affected by substances. The needs of the entire family will be assessed and addressed including other children in the home. Pregnant women are partnered with a specially trained and experienced registered nurse early in pregnancy and continue with individualized ongoing home visits until the child's second birthday. The nurse client relationship developed during these visits, has been proven to improve pregnancy outcomes, strengthen child health and developmental wellness and advance family's economic self-sufficiency. The nurse will conduct screenings, assessments, and provide family focused case management, as well as support mothers health and wellness goals.
Services: Home visiting with experienced Registered Nurses; education and support in prenatal and newborn care, breastfeeding, parenting, health and wellness; infant safety planning and assessment; tobacco cessation; referrals to community service providers; developmental screenings and support activities; and more.
Who is eligible?
At risk pregnant women and their infants affected by substances are eligible to enroll. Once enrolled, services extend to include fathers, caregivers, additional children in the household.
Eligibility is based on the following:
Clients must be enrolled during pregnancy
Women who have an identified concern of substance exposure (includes alcohol, controlled and illegal substances)
Women who are eligible for WIC and/or Medicaid and teenagers mothers
How to enroll: Call Nurse-Family Partnership at 352-244-1090 or text "Connect" at 352-415-0091
Our partnership: Nurse-Family Partnership includes Florida Department of Health, Florida Association of Healthy Start Coalitions, Florida Maternal, Infant and Early Childhood Home Visiting Initiative, Central Healthy Start, Healthy Start of North Central Florida and WellFlorida. Sponsored by Florida Maternal, Infant and Early Childhood Home Visiting Initiative and Florida Department of Health.
This project is supported by the Health Resources and Service Administration (HRSA) of the U.S. Department of Health and Human Services (HHS) as part of an award totaling $9,216,996, with zero percentage finance with nongovernmental sources. The contents are those of the author(s) and do not necessarily represent the official views of, nor an endorsement, by HRSA, HHS or the U.S. Government.
Learn more about Nurse-Family Partnership at nursefamilypartnership.org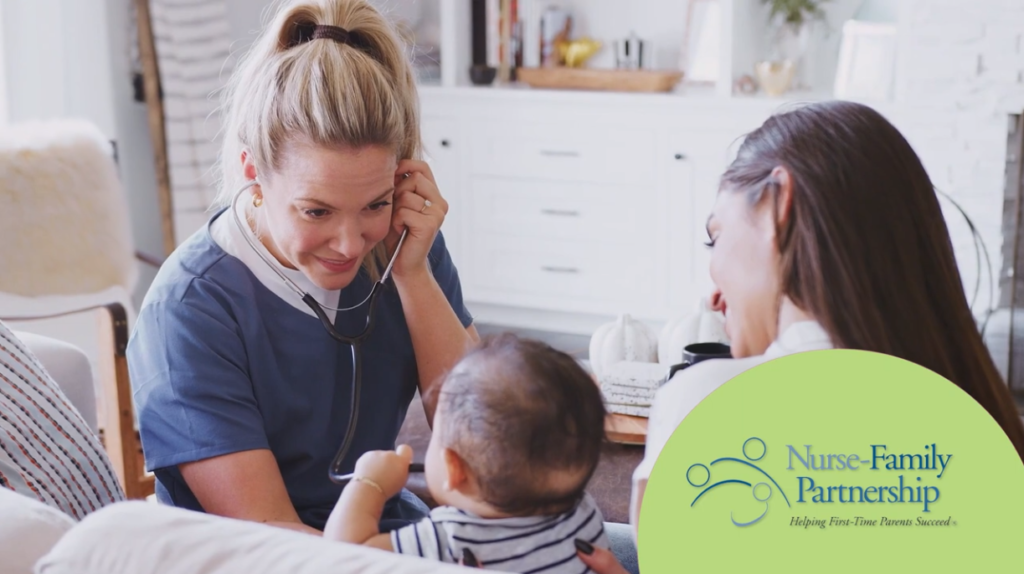 VIDEO
About Nurse-Family Partnership